Dissertation Abstract
Tentatively titled "From Pussyhats to GynePunk: DIY Feminism in Post-Industrial Spaces," my dissertation responds to mainstream "maker" culture by analyzing feminist hacker- and makerspaces, and examines how the design of a makerspace and a person's identity influence that person's experience within a makerspace. Framing makerspaces as post-industrial spaces of work and technical communication, and studying them through a lens of craftivism and intersectional feminism, I argue that the so-called "Maker Movement" is mass-reproducing hegemonies of industrial production.
MA Thesis
My 2014 MA Thesis, "Makers: Technical Communication in Post-Industrial Participatory Communities" explores maker communities as fundamental to post-industrial economies, and is based on my experiences visiting three Scottish makerspaces, the Paris Maker Faire, and the Cincinnati Mini Maker Faire.
Publications
Gender, technology, and narratives in DIY instructions. In Proceedings of the 35th ACM International Conference on the Design of Communication (SIGDOC '17).
How 3D Printers Support Teaching in Engineering, Technology, and Beyond. Bulletin of the Association for Information Science and Technology 42(1).
Selected Presentations
Teaching Documentation through 3D Printing and Instructables
(Awarded 3rd place in the SIGDOC Graduate Student Research Competition, 2016)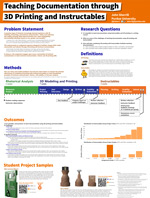 Marginalized Makers (Presented at the Cincinnati Mini Maker Faire 2016)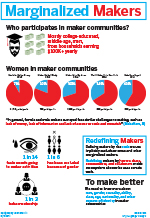 Do I Really Need Safety Glasses for This Class? (Presented remotely at CCCC 2017)